No matter what and where you study, there are certain things you simply cannot survive university without. All of these things add value to your university experience, and at one point or another you will come to appreciate the important role each of them plays in your life.
In this post, we're breaking down 10 absolute essentials that you need to have the best university experience ever!
1. Laptop
It's virtually impossible for students to get through university without access to a personal laptop. Everything is done through your laptop these days, and we're not just talking about your assignments and online lectures, but your entertainment as well – how else are you going to catch up on the latest Netflix series everyone on campus is talking about?
2. Smartphone
A smartphone is your laptop's partner in crime, you can't have one without the other. It gives you the necessary learning aids to help you stay on top of uni work, wakes you up every morning, keeps you amused when boredom strikes, and helps you stay connected with loved ones at home… What would you do without your phone, amirite?
3. Portable Power Bank
You may not think much about these little machines, but they can be a real lifesaver! As a university student, you're constantly on the go so you never know where you'll be when your laptop or mobile phone runs out of juice. It would be wise to invest in a portable power bank to give your devices a boost during otherwise desperate times.
4. Note-Taking App
Do you feel lost when you sit in a lecture and have nowhere to take notes? You may not always have a pen and paper handy, but you will always have your mobile phone, so why not download Noted on your iPhone, iPad, or Mac, and let us take care of all your note-taking needs?
---
Noted is designed especially for students like you. It allows you to record your lectures and take notes at the same time. It's easy to navigate, it looks good, it has all the formatting tools you need to take comprehensive notes, and it's FREE to use!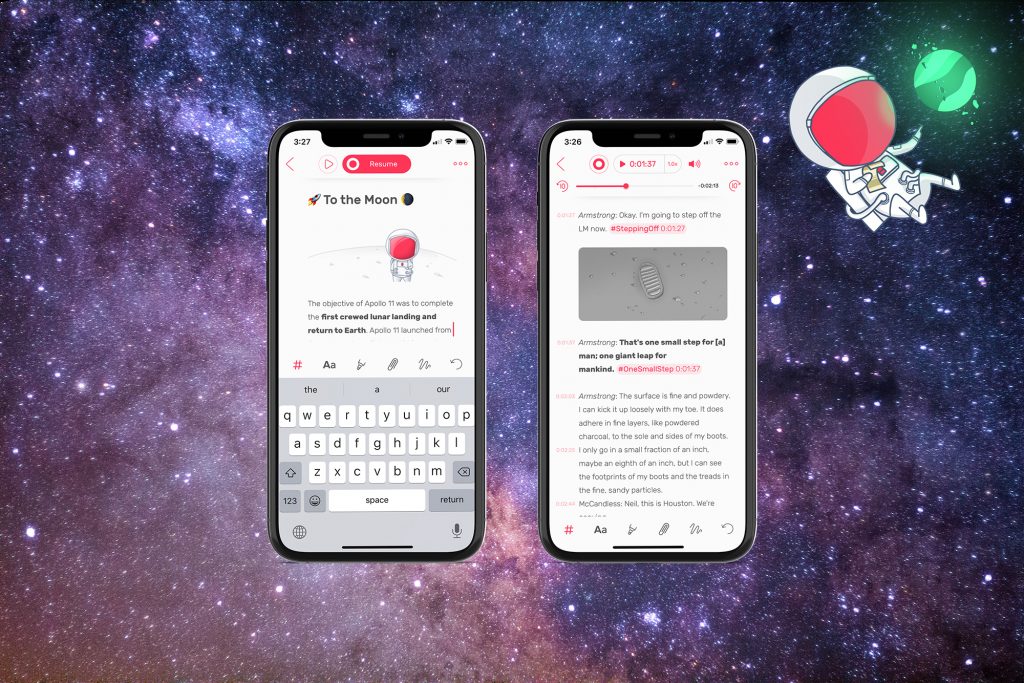 ---
5. Reliable Internet
Good internet isn't an option for university students. If you've ever lost connection in the middle of an assignment you'll know that the helplessness is like nothing you've ever felt. To keep your internet running smoothly, you should consider getting an ethernet cable. WiFi is great, but it can be very slow when every student in the hall is using it on multiple devices.
6. External Hard Drive
Throughout your time at uni, you'll no doubt hear many horror stories of people not backing up their work and losing it before a deadline. The scary fact is, this can happen to anyone. If you don't want to have to explain to your professor why your assignment is late, get yourself an external hard drive and start saving all your coursework on it.
7. Backpack
With a laptop, tech gadgets, stationery, textbooks, and other heavy materials to carry across campus day in, day out, a backpack is a must-have. However, not all backpacks are created equal – be sure to look for one that's not only roomy and sturdy, but comfortable on your back too.
8. Comfortable Shoes
Like most students, you'll probably find yourself doing a lot of walking on a typical school day, which means sensible shoes are absolutely essential for commuting from A to B comfortably. Make sure to find shoes that are fit for doing athletic activities too, because you never know when you may want to go for a walk or a run with some friends.
9. Fluffy Pillows
Getting enough sleep is vital to academic success. A good night's sleep not only improves cognitive functioning, it restores energy, increases focus, and boosts attention span. So make sure you get some comfortable pillows that will send you into a sound sleep.
10. First Aid Kit
No student, or anyone for that matter, should overlook the importance of a first aid kit. It's highly possible that this is your first time taking responsibility for your own health and wellbeing, so if you don't know what to pack in your first aid kit you can just buy a pre-made one. It's cheaper, and you'll have everything you're likely going to need in one package.
---
Live Your Best Uni Life!
Looking for more tips to help you survive university? These are the 10 habits you need to develop in order to excel at university, and if you're an iPad user, find out how you can use it to stay organised here.
We hope that this article has given you a better insight into student life. Don't forget to sign up for our newsletter for more tips.
Is there anything else that you can't live without? Let's have a chat on social media: you can find us on Facebook, Twitter, and Instagram.