Recording physical meetings, classes & conferences had always been the core of Noted. In late 2019, we had this 💡moment — why not record online meetings and conferences too?
---
Zoom had always been a well-known tool our subscribers use on their Mac, especially for online sales calls or virtual meetings.
While they'd usually have Noted running on the side to take notes, there was still something missing…
"How do I record screen sharing in Zoom?"
"How would I capture audio if I wear earphones?"
---
Therefore, in our latest Mac release – we're excited to announce that Noted+ users can now record in Zoom, and take time-stamped notes in Noted – side by side, in realtime.
Here is a short video demo of how it works:
---
To set this up, download Noted Mission Control – a new status bar application we put together. Acting as a bridge, it connects Noted and Zoom together, allowing you to create new notes after you hit record in Zoom.
And, if you are like one of us who love preparing meeting agendas the night before, you can easily link your existing notes right within the app: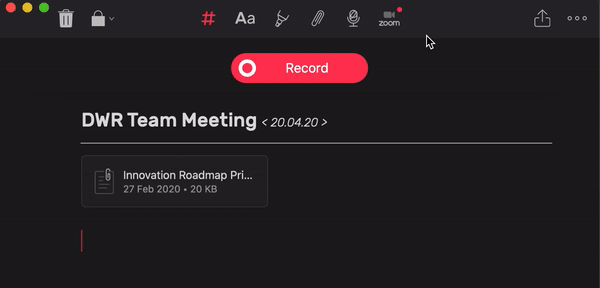 ---
The team has worked hard to pull out all stops in making this happen. We trust this will empower your Zoom meetings.
Finally, this is just the beginning of us adventuring into recording online meetings and conferences.
We have bigger yet exciting plans ahead, so stay tuned for our blog updates.
Thank you and keep safe.