Technology has made jotting down digital notes on your phone or tablet easier than ever. However, if you're one of those people who still prefer the feeling of putting pen to paper, but you struggle to keep your ideas organised – you're in luck.
Here, we're showing you how to use our new Scan Text feature to snap a photo of a handwritten page and transform the content into searchable digital text.
How to use Scan Text?
Turn your handwritten or printed documents into searchable digital notes couldn't be simpler with Noted. Just tap 📎 Attachment on your editor toolbar to launch the menu, then find the Scan Text option – and snap away!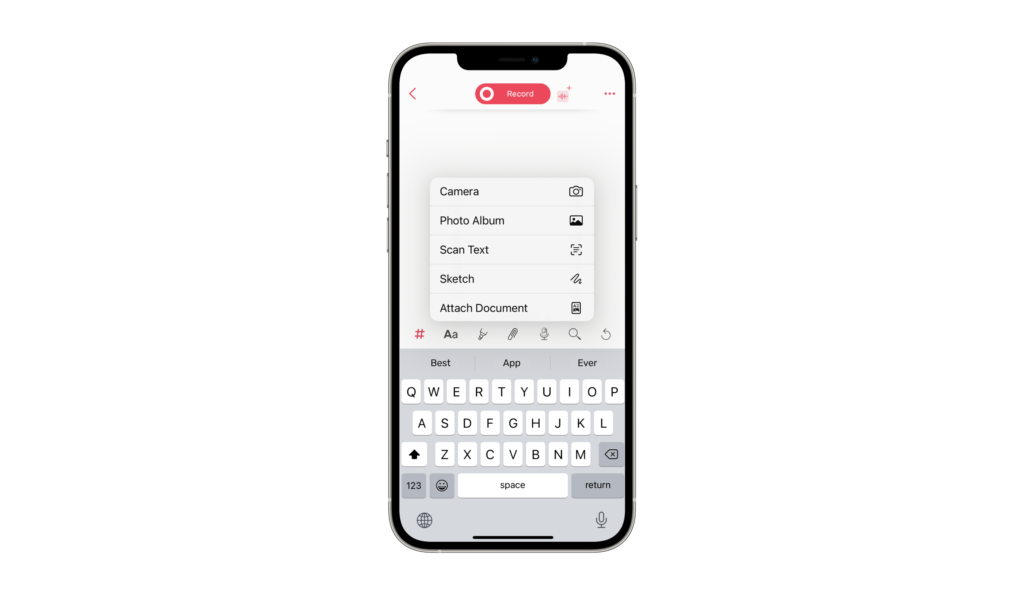 Who is Scan Text for?
Scan Text, which digitises text that's either handwritten or printed, is a very practical tool for anyone who takes notes as part of their routine, whether it's for work or study.
If you're a student, you're probably tired of playing catch-up trying to write every word down before the lecturer wipes everything off the whiteboard. Perhaps your notepads are piling up, thus making your lecture notes disorganised and a nightmare to review. Either way, your grades may suffer – but not if you use Scan Text. As it enables you to capture every word and turn it into searchable digital notes without typing at all.
Likewise, if you're a professional, you most likely have too many hardcopies – like documents, product labels, business cards, receipts, letters, and post-it notes – lying around your desk, which can create clutter and hinder your productivity. Scanning them into Noted can make sure they're stored securely as well as easy to search for later on – crisis averted!
Why use Scan Text?
Good ol' pen and paper are great, but you may struggle to organise and search through handwritten text the way you can with notes on Noted.
Scan Text offers a convenient and timesaving way (it literally only takes one snap, maybe more if you have a lot to scan) to convert your handwriting into searchable text. You can even take a photo of the text and attach it to the note – all from the Noted app itself. Once saved, scanned items are available to you whenever, wherever.
So, if you love paper but want the organisation of digital notes, then you should definitely try out Scan Text, which makes it super simple to get an instant copy of a note or an important file.
---
Ready to get snapping?
Like the sound of Scan Text? Try it, we're sure that you'll love it. Download Noted on your iPhone today, and start snapping!
Don't forget to subscribe to our newsletter to get an exclusive first look at our new features, or connect with us on Twitter, Instagram, LinkedIn, and Facebook!