Have a great idea? Sharing it with your classmates, colleagues, or clients and opening it to outside input can make it even greater!
Keep reading to see how you can share all the ideas you've captured with Noted.
Why You Should Share Ideas
Sharing ideas within your circle paves the way for you and everyone around to achieve more diverse and widespread opinions than you might get working solo.
Many workplaces encourage the sharing of ideas, knowledge, and insights, as it boosts productivity and fosters innovation. In fact, some employers see the ability to generate and express ideas as an essential quality in candidates. So, whether you're a graduate-to-be or a working professional, it's a skill worth mastering.
However, sometimes you need a little help to get your ideas across, that's why you have Noted and our flexible ways to share notes.
How to Share Ideas with Noted
To start, here's how to find the Share Notes options on Noted:
iOS: Tap the ⋯ icon at the top right corner, then tap Export (the third icon at the bottom of the sidebar). Alternatively, you can swipe left on a note to reveal the Export icon.
macOS: Click the Export button next to ⋯ icon at the top right corner.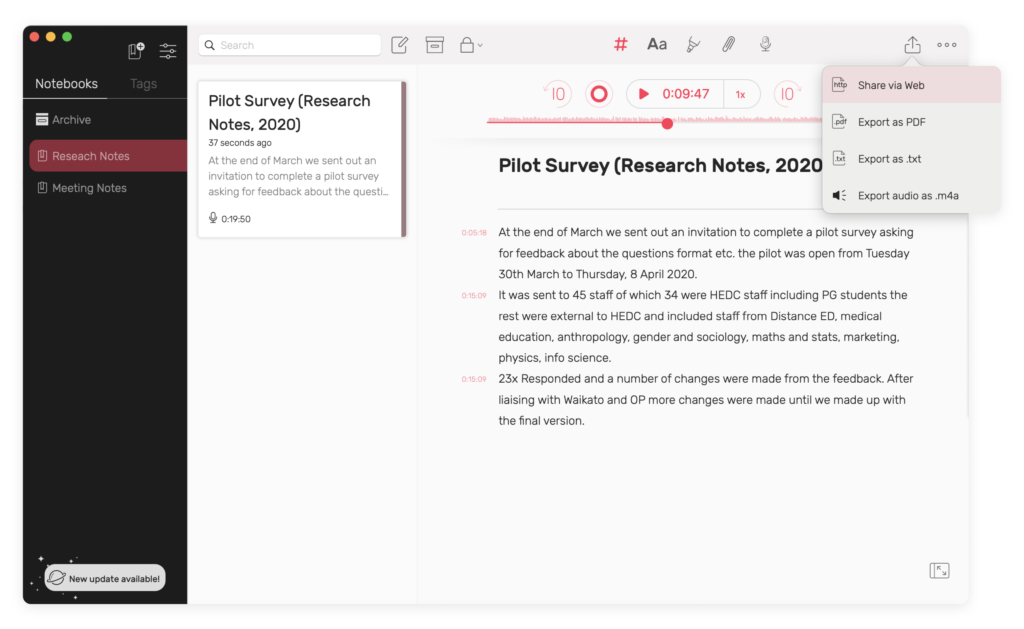 Noted provides a number of ways to share your notes straight from your device. This is ideal when you're working independently on a group project and you want to share, discuss, and explore ideas with fellow students; or you simply want to share some brainstorming ideas with a teammate at work.
Option 1: Share via iCloud
Through iCloud, you can share notes complete with time stamps, #TimeTags, images, attachments, and even audio recordings to other Noted users. As the name suggests, this method of note-sharing transfers all content within a note via iCloud so anyone who has the sharing link can import your note for their own use – all you need to do is copy and paste!
Option 2: Share via Web
What if you want to share notes with non-Noted users, but you don't want them to miss out on the full Noted experience? Don't worry, you can share them via web.
Sharing notes via web means anyone can relive every moment you've recorded, as they will include the audio recordings along with time stamps, #TimeTags, images, attachments – the whole works. You can even add a password and extra peace of mind.
Option 3: Share Notes as PDF or TXT Files
If you need to share visual or textual notes, there's an option to export notes as PDFs including attached images and illustrations, or in .txt format as plain text.
Option 4: Share as Audio Files
Similarly, if you're looking to share audio notes (without text, images, time stamps, etc.), you can export recordings as .m4a files and send them via AirDrop, email, or any other method that suits you and the recipient.
---
Idea Sharing Made Easy
Putting your best ideas forward using Noted takes only a few simple steps, so get to sharing!
Before you go, why not subscribe to our newsletter for the latest Noted news or connect with us on LinkedIn, Facebook, Twitter, and Instagram where we share user tips weekly!