Noted is now enhanced with iPadOS 15's new technology!
Our version 3.5 update is packed full of new features that make your note-taking experience easier and more enjoyable than ever. Get your space helmet on, because we're going to dive right into every new feature you can experience on your iPad right now!
All Keyboard Shortcuts at Your Fingertips
If you use an external keyboard when using Noted on iPad, we have some good news for you: Thanks to iPadOS 15's new keyboard support, all our keyboard shortcuts are now discoverable by simply holding down the ⌘ key. This not only lets you browse all available keyboard shortcuts at a glance, but you can also even search for the shortcut you're looking for.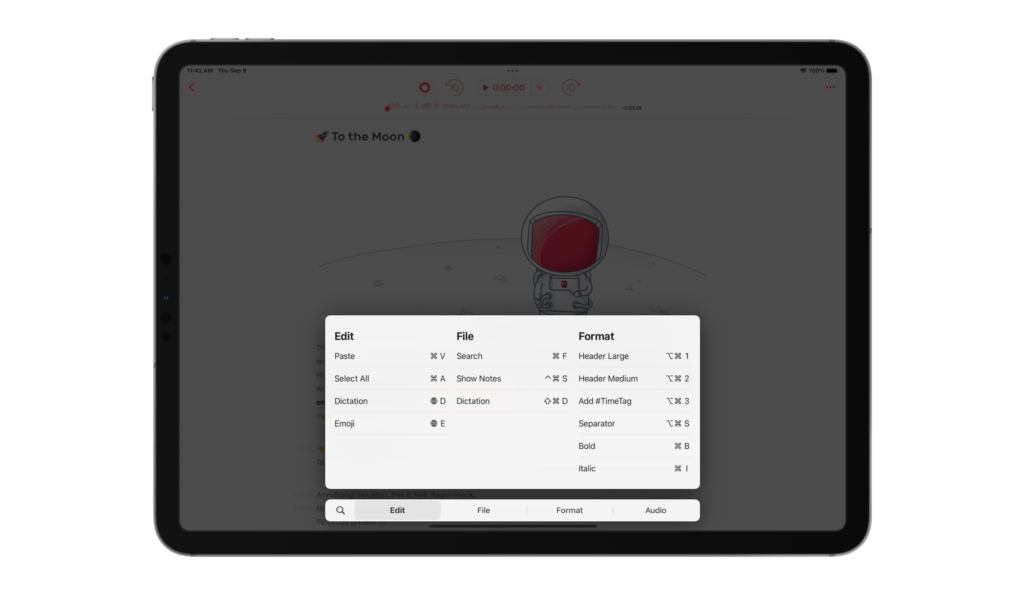 If you've ever racked your brain trying to remember what a particular shortcut combination is, you'd know how game-changing this is.
No More Switching Between the Screen and Keyboard
Here's something else all external keyboard users should know: If you're not a fan of switching between the touchscreen and the keyboard when taking notes, you'll be glad to hear that we've added keyboard-only navigation which enables you to flip through your notes and navigate the menu without removing your fingers from the keyboard.
This feature is not only for users who find the screen-to-keyboard-to-screen experience clumsy, but those who are blind or have low vision, thus prefer more physical control over how they navigate the app.
Get Even More Out of Widgets
Widgets are arguably the best thing Apple has ever added to the iPad – and it's about to get even better!
If you liked our widgets before, just wait till you experience our new extra-large widget, which lets you view more of your favourite notes than ever. That's not all, you can also start recording straightaway and create notes at a moment's notice, which means you no longer have to launch the app to start capturing ideas. Try it, add this from the Widget gallery now!
Prepare and Review Noted Ahead of Lectures, Meetings, Etc.
And then there are Reminders, available on both iOS and iPadOS versions.
Your notes are only good if you review them, but what if you have too much on your plate and not enough mental capacity to remember everything? Fret not, that's why we've integrated Calendar with Noted to keep you notified.
With our new Reminders feature, you can set Calendar alerts by tapping the bell icon 🔔 in the side menu. We'll remind you to revise before an exam or refresh your memory on a project ahead of a meeting – so you're prepared for anything uni or work life throws at you!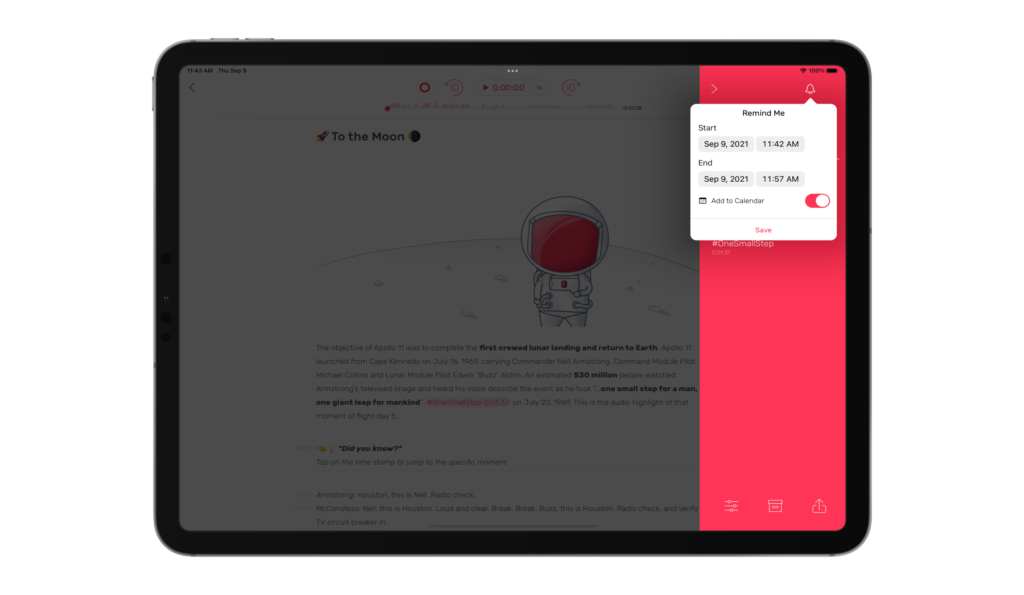 Note: Reminders are created using the new iOS 15 time-sensitive reminder tags, which enable them to bypass Focus mode when you want to concentrate on an assignment or a task at hand. That way you won't miss any important reminder to review a note.
---
Take Better Notes on Your iPad Today
Update Noted now on App Store and start enjoying all these new features. Don't forget to sign up for our newsletter to get user tips and exclusive sneak peeks of our future releases.