We're back again with even more exclusive features.
As always, our focus is to create an audio-first note-taking app that can record every important moment. So whether you're a student, a journalist, a podcaster, a songwriter, or just someone who wants to retain more information, Version 3.2 has just made your life a whole lot easier.
Audio Trimming
This one's for the forgetful students who never remember to stop recording after a lecture, and the songwriters who want to keep recording and let their creative juices flow uninterrupted.
Noted now lets you trim off unwanted parts of your recordings. So if there's any delay before the speaking begins or silence afterwards, if you forgot to stop recording, or any lyrics that didn't make the final cut, you can crop them out and keep only the part you need.
Retain Timestamps
You asked, we listened, and we delivered.
Previously, when you removed an audio recording from a note all your timestamps would be erased too, but no more. We listened to users who found this experience inconvenient and that's why from now on, you can remove an audio recording without losing the precious timestamps.
Simply toggle 'Remove timestamps' when removing recording from a note: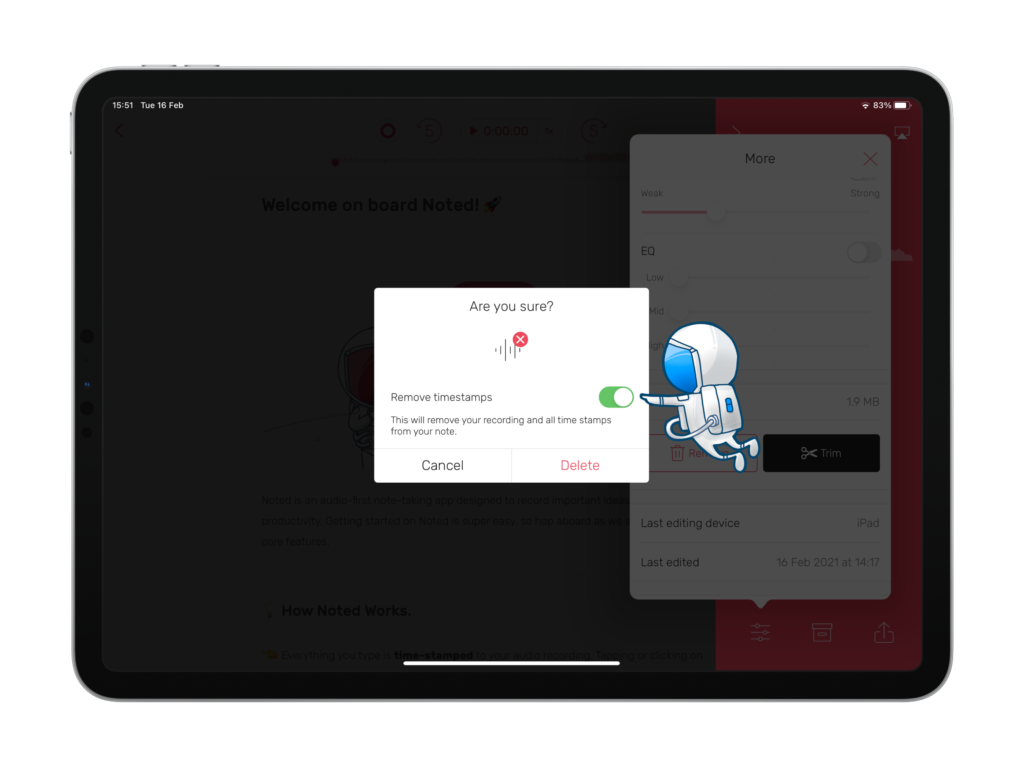 Import Multiple Recordings
Have you ever wished you could import more than one audio recording to a note? Now you can.
This is brilliant news for creatives who need their audio files in one place. For instance, if you're a music producer, you may have several tracks from a session that you want to take some notes on. Now you can import all of them into one note and work on them at once.
---
Start Taking Better (Audio) Notes!
Remember you can try all these features and more for free when you claim your 7-day Noted+ trial (first-time users only).
Let us know what you think of this update. Give us a shout-out on LinkedIn, Facebook, Twitter, and Instagram. To get exclusive previews on our future releases, sign up for our newsletter.