From researching about the company to deciding what to wear, thorough preparation is key to interview success. If you have an interview lined up, then this post may be of use to you.
The Noted app is useful for many purposes, and one of them is to help you prepare for a job interview, and put in a good performance to secure that job. Want to know how? Keep reading to find out how you can use Noted to help you ace that all-important job interview.
But first…
We must clarify that in addition to using Noted, you should thoroughly research the company you're interviewing at and carefully review the job description to assess what they're looking for and what you can bring to the company. This will increase your chances of securing the job ten-fold.
Now, let's get into five ways Noted can help you prep for your next job interview.
1. Plan Your Answers
While you won't be able to predict every question that will come up in an interview, there are some common interview questions that you can expect to be asked and plan your answers for, such as…
Tell me a little bit about yourself.
What are your strengths?
What are your weaknesses?
Why do you want to work here?
Why do you want to leave your current job?/Why did you leave your previous job?
How would your former manager describe you?
How do you manage your time?
Tell me about an accomplishment that you are most proud of.
Tell me about a time you made a mistake.
Tell me about a time you handled a difficult situation.
In preparation for your interview, you should use Noted to jot down all these questions along with your own answers and keep them in your back pocket – literally and figuratively. That way you will have an answer for "Why do you want this job?" ready to go.
2. Organise Your Thoughts
The combination of a rich-text editor and a clean canvas makes Noted the ideal app for putting your thoughts into words and keeping them nice and neat. Tools like the highlighter can help you focus on key facts, whilst bullet points are perfect for organising information.
To make sure you sell yourself as the best candidate, create a bulleted list of everything the employer is looking for based on the job description and another one of the skills and experience you possess that fit those requirements. Focus on these points during the interview and we're sure that you'll have no trouble convincing the hiring manager you're the one!
3. Practise Your Answers
A good answer is only as long as it needs to be. To avoid going on a tangent, you can use Noted to record a few trial runs then play them back to determine whether you're speaking clearly at an understandable pace or if there is any information that you could leave out to keep your responses more concise and to the point.
Remember, practice makes perfect. This is true even if you're a well-oiled interviewing machine. Doing a practice run is not only good for gauging the length of your answers, but it's also effective for calming your interview nerves when you're doing the real thing.
If you're a Noted+ user, you can even record yourself using our Zoom integration and review your performance to see how you can perfect it. Read more about our Zoom integration feature and how you can set it up in just minutes.
4. Keep a To-Do List
Not every job interview is a standard, straightforward Q&A session. In some cases you may be asked to perform a task, such as a skills test, a presentation, or a mock sales pitch. Whatever the task may be, this is your shot at setting yourself apart from the competition and proving how much you want the job, which means you need to be extra thorough in completing it.
If you think that you'll be delivering a lot of work, it's worth spending some time to produce a checklist of things you need to do to make sure you don't miss anything and to keep track of your progress. This is super easy to do with Noted, simply create a new checkbox (select from the menu of editing tools) and start typing your task.
---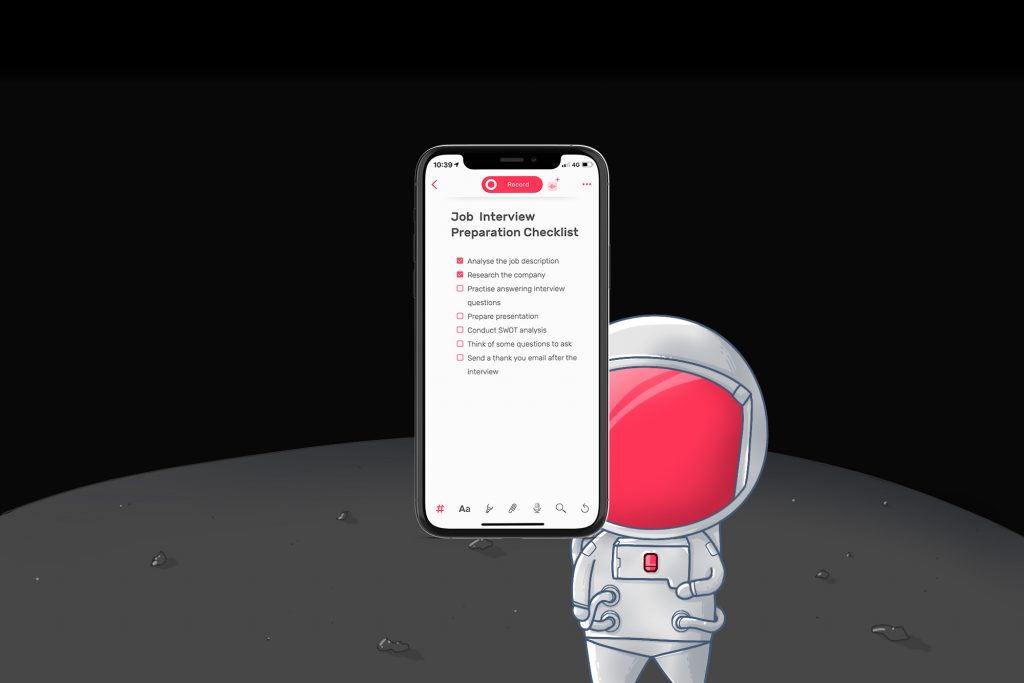 ---
5. Prepare Your Questions
At the end of the interview, you will most likely be asked if you have any questions for the interviewer – this is a chance for you to build rapport, find out more about the employer, and display your passion for the role.
It's 100% acceptable to take your notes out for this purpose. In fact, bringing a list of questions to an interview can show that you're interested, enthusiastic, and engaged, and that you've done your research on the job and the company. So write down some questions on Noted beforehand and bring them to the interview.
Bonus: Take Notes at the Interview
Taking a few notes during an interview will ensure that you don't miss any important detail about the job, but it can also show the interviewer that you're listening and actively engaged in the conversation. If you'd like to take notes during the interview, just ask the interviewer if they mind before you break out the smartphone or iPad.
---
Best of Luck From Team Noted!
All the features we mentioned above are absolutely free to use, so give them a try – download Noted now and knock your next job interview out of the park!
Let us know how your job hunt is going! Tweet to us at @EverythingNoted, or share your experience with us on Facebook or Instagram. Don't forget to sign up for our newsletter too for more tips! 🚀