Working from home is becoming the new normal – and no, it's not just because of the pandemic.
These days, jobseekers favour remote roles for their flexibility in both working hours and location, whilst employers are realising that remote working (when done right) can actually boost efficiency.
Thanks to advances in technology, remote working has never been easier. If you're new to working remotely 100% of the time and finding it difficult to keep your productivity up, here are some of the best remote-working tools to enhance every aspect of your WFH performance.
1. Team Communication
Noted's Favourite: Slack (FREE plan available)
Communication is key for any team whether you're working remotely or office-based. However, remote working does mean that you and your colleagues won't be able to hang and gossip around the water dispenser, hence you need to find another way to stay in touch.
At Noted, we swear by Slack.
Slack is a brilliant real-time communication tool for both one-on-one and group conversations with your team. It works seamlessly for remote teams that need to maintain an open line of communication at all times. It's as close to a virtual offer as you can get.
If you don't already use Slack, here are some of the best things you can do with it:
Create channels for different teams and/or topics
Make voice and video calls
Share files
Search shared information
Integrate activity from third-party platforms like Trello and Google Drive
Archive messages
Sure, you can always communicate via emails, but they can get clunky very fast – especially if you just want to drop someone a message for a casual chat or ask them a quick question.
2. Video Conferencing
Noted's Favourite: Zoom (FREE plan available)
When you think of working from home, you probably think of hours spent on video calls, online meetings, and virtual presentations… and you wouldn't be wrong! All these activities are a big part of working remotely, so having a reliable and robust tool for video conferencing is essential to ensure an uninterrupted flow of information.
If you're looking for a tool to have a little facetime with your teammates, we recommend using Zoom.
Chances are you've heard about Zoom before. In case you haven't, it is a group calling app which offers amazing video quality. It's easy to use, affordable with straightforward pricing, and it comes with a whole host of useful features:
Full screen and gallery view
Screen sharing
Join as view only attendee
Annotation and co-annotation tools
Instant or scheduled meeting setups
Built-in security measures, such as password protection
Meeting reminder (on mobile)
As one of the most powerful and popular webinar software on the market, Zoom makes scheduling and hosting virtual meetings with your team a breeze – and trust us, seeing others' expressions and gestures as they speak really goes a long way in having more effective communication even if you're not in the same room!
3. Time Management
Noted's Favourite: Google Calendar (FREE)
Working on your own doesn't mean you don't have to watch the clock… Far from it! In fact, time management is even more important when you're outside of the traditional office setting. That's why at Noted, we encourage our team members to log their focus sessions, meetings, out of office hours, holidays, and other appointments on a shared Google Calendar.
Google Calendar is a great time management tool not only for keeping your own schedule straight but for coordinating with your team as well. If, like us, your team is also working remotely, having a team calendar just makes it ten times easier to visualise what's going on in everyone's day.
4. Cloud Storage
Noted's Favourite: Google Drive (FREE)
If you're still storing data on a USB stick and circulating information in an email, it's time to stop! "What's wrong," you ask? Well, it's not only inefficient for remote working, it's also unsafe because physical storage devices are easily misplaced, which can lead to sensitive data loss.
A cloud storage service that allows you to share and access information from afar is a crucial component in remote collaboration. We like Google Drive because it's uncomplicated: just save a file in a shared folder, and you and your teammates will instantly have access to it, or you can save your work in a personal folder to keep it private; and it's free!
Other than that, you can also…
Share Word-formatted documents, Excel spreadsheets, and PowerPoint presentations
Save assets like images, audio recordings, and videos
Create online documents in a variety of formats
Grant access to selected team members to certain documents
Allow people to view or edit documents
Leave comments
Chat with others in a file
Access and update files from any device
Work offline
Revert to earlier versions of documents
Google Drive truly has it all – really, there's not much more you would want from a cloud storage service.
5. Note-Taking
Noted's Favourite: Noted (FREE plan available)
Not trying to blow our own trumpet, but we're pretty confident that our note-taking app will be the best you've ever tried!
In order to make sure that you get quality work done wherever you are, we've designed Noted to make note-taking on your Apple devices a beautiful experience. Below are some of the nifty things you can do with Noted:
Record voice notes
Time-stamp every note as you record
Use #TimeTag to mark important parts of your notes
Organise your notes
Sync notes across multiple devices
Share your notes with ease
In addition, Noted is compatible with Apple Watch, allowing you to record voice notes with just one tap. It even supports Apple Pencil, so you can add illustrations to bring your notes to life. What's more, all of these features we've mentioned are absolutely FREE to use!
Is it any wonder that it's one of the Apple team's favourite apps?
---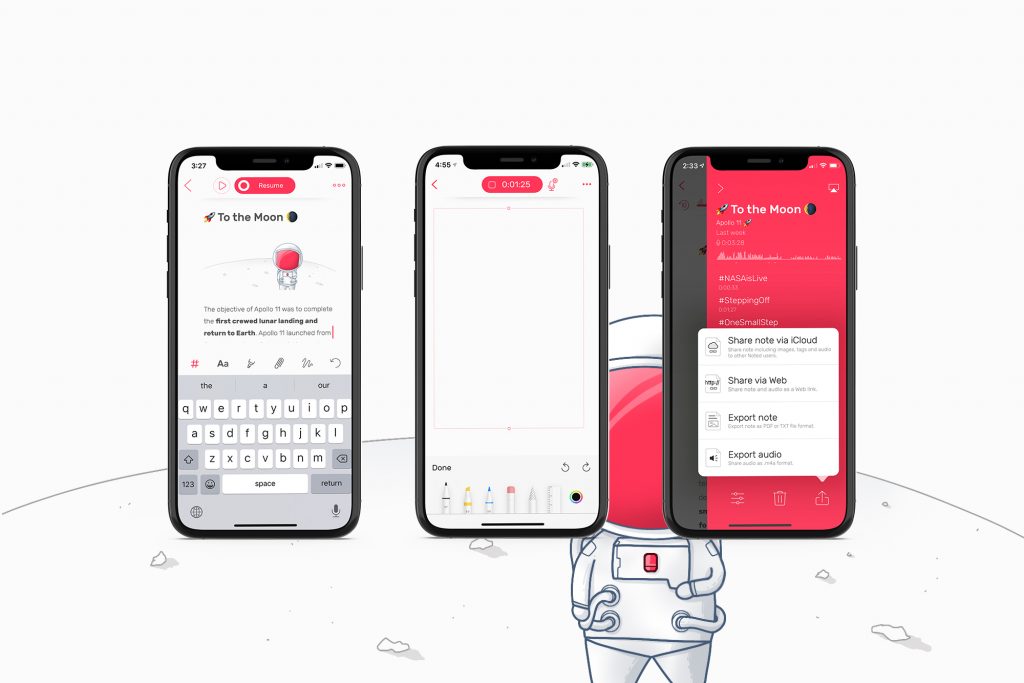 ---
For Noted+ users, there are plenty more exclusive features at your disposal – for instance, you can use voice dictation to convert your speech into text, record Zoom meetings and take notes at the same time, and so much more!
6. Project Management
Noted's Favourite: Trello (FREE plan available)
Managing to-dos and coordinating responsibilities are challenging wherever you work, but it's particularly difficult when your team members are scattered in different places – but it's not impossible.
At Noted, we use Trello to stay on top of all our projects, and it works a treat.
Assigning tasks and due dates, updating progress, uploading files, and sharing feedback using Trello is absolutely effortless, making it the perfect project management tool. Most importantly, it helps to establish a centralised location for notifications and progress status, giving you everything you need to review a project's road map at a glance… and it's free to use.
7. Focus & Productivity
Noted's Favourite: LeechBlock NG (FREE)
Sure, the internet is a place where most of our work takes place – and it's great! – but hyperconnectivity comes with a hefty price tag: distractions are always just a click away.
Shutting the door and putting on some AirPods may work in the physical world, blocking out distractions in the digital world proves to be much harder. When cutting off the entire internet isn't an option, you can find a less obtrusive solution in LeechBlock NG, a browser extension that blocks time-wasting websites that are literally sucking the life out of your working day and making it impossible to focus on your work.
LeechBlock NG has a timer that allows you to choose which sites you want to block, when you want to block them, and how long you want to block them for. Once they're blocked, you're locked out until the timer runs out. You can even set up a page which you're redirected to whenever you try to access a blocked site, motivating you to get back to work.
LeechBlock NG works on most major browsers and, again, is absolutely free to use – so what's your excuse? Get to work!
---
Work Better Remotely!
Now that you're practically a WFH wizard, why not sign up for our newsletter, and connect with us on social media and let us know how remote working is going for you?
You can find us on Facebook, Twitter, and Instagram. We await your message!