As Christmas is the time for giving, we made it our merry mission to find fun hacks to make your Christmas exciting and stress-free.
Here are some creative and productive ways that Noted can help you have the best holiday season ever.
Let's get started.
1. Amazing Annotations
Making memories is the best, especially at Christmas and selfies are a great way to capture twinkling moments with family and friends. Whether it's a snap of the morning frost or putting the star on top of the tree, it's become such a ritual to document meaningful occasions.
But why should it stop there?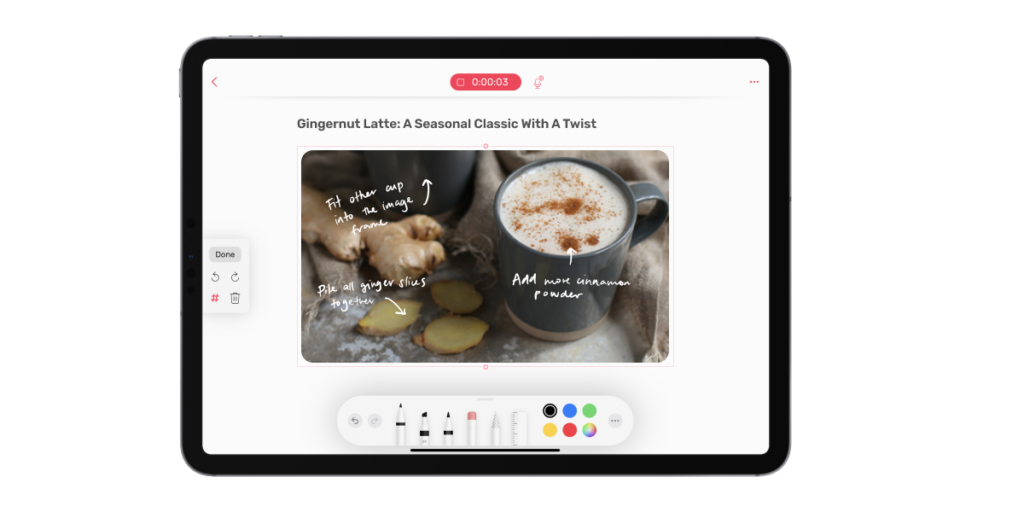 Noted's Annotate feature is a great way to enhance your journaling, brighten up mood boards and level up that epic shot of your gingernut latte. With Noted you have the freedom to mark your pictures, documents, diagrams and more, helping you give context, make things more personal and to your liking.
And that's not all, it's also a fantastic solution for any sudden sparks of inspiration you have.
Say you're hurrying to the Christmas Lights Display, and you suddenly have a great idea for the festive games night you're hosting or a brainwave from a recent lecture; being out and about doesn't have to stop you from getting it all down. Annotate is the perfect and simple way to keep "light-bulb moments" safe and capture them whenever and wherever they happen.
2. Calendar Reminders
With all the festivities and social invites dropping through your door, it can be easy to forget that some students go straight into exams after Christmas. So it's vital, that in the hustle and bustle of it all, you remain calm, organised and know exactly where you need to be and when.
This is where Noted's Calendar Reminders come in. This nifty feature ensures all important events are recorded, saved, and that you get a helpful nudge when things are due.
Everything you need is synced with your Apple Calendar making sure you're prepared, assignments are submitted on time and you don't miss the Christmas pub quiz.
3. Sleighing Scan Text
Seen an amazing recipe, but it's way too early for mince pie season in October?
Scan Text is one of Noted's hero features and it can also be used in a variety of unique ways.
Scan Text allows you to turn handwritten or printed documents into searchable digital notes. Just tap 📎 Attachment on your editor toolbar to launch the menu, locate the Scan Text option and get snap-happy. 
Have fun editing whatever you please or even capture and come back to it later. Setting cheeky reminders on the calendar feature will notify you at a more convenient time.
The possibilities to make any notes entirely your own are truly limitless.
We ho ho hope this has been helpful and has given you lots to think about when it comes to getting the most out of Noted App.
From all of us at Noted App, have a fantastic Christmas and New Year, and keep an eye out for our next blog post coming very soon. In the meantime check us out on Pinterest, Facebook, Instagram and Twitter.