Note-taking is one of the most important skills a student could master to capture details presented in lectures and comprehend studied material. But it's a tricky one for many students (especially freshers) because effective note-taking requires a lot of attention… or does it?
Noted makes note-taking simple and effortless. Here's a look into all the features you need to start using.
Not a morning person? Had a rough night?
We know what it's like for students… It's Thursday night and you're out "socialising" with your friends, then, when the dreaded 9am lecture comes in the morning, you have to drag yourself to class. On days like this, Noted's record button is your best friend.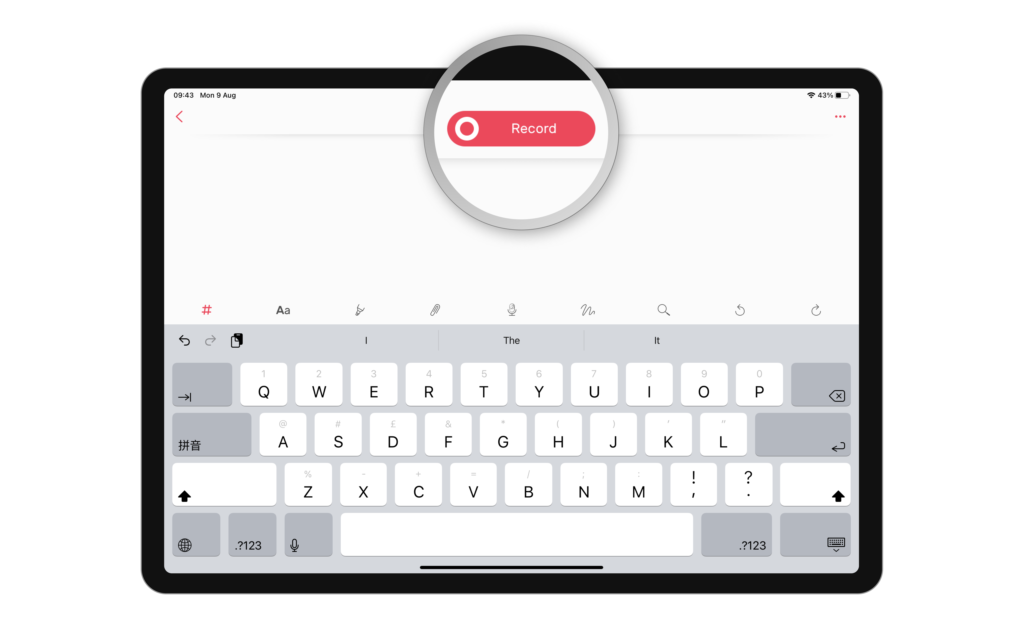 Simply tap it, sit back, and let Noted do the note-taking. This is also useful for those who don't do mornings, or if you struggle with taking notes whilst listening.

---
Never Miss a Key Point Again
If recording isn't enough for you, you can use #TimeTags to mark exam tips, essay guidelines, and anything else that may help you ace the next assignment. Then, when you review the lecture recording, tap on them to instantly jump straight to these key moments, saving you from sitting through the entire lecture again – once is enough! – to find the information you need.
---
"I swear I stopped recording!" Sound familiar?
As a student, remembering to stop recording after a lecture is probably the last of your worries. Because of this, you'll often realise that you forgot to press stop after recording and end up with a hours' worth of audio.
This can be a problem for two reasons: It's no fun to review and it can make a dent in your storage space – but don't worry, Audio Trimming to the rescue! In just a few simple steps, you can trim the recording to keep the useful parts.
Sometimes prevention is better. Turn on Location Awareness Recordings to receive a reminder to stop recording when you leave a lecture room.
---
Organisation is the Key to Student Success
It's a cliché but it's true. Organising recordings from the same subject into one note makes it easier to locate specific details, and it's super simple to do with our Import Multiple Recordings feature.
If you don't fancy packing several long recordings into one note, consider combining recordings from your study groups or revision sessions instead. This way you won't be left with hundreds of individual notes at the end of a semester.
---
Spend Less Time Reviewing, More Time Being Productive
Whether it's a lecture, a seminar, a study group, or a brainstorming session, moments of silence are inevitable in recordings. And there's nothing more painful than having to listen to the same meaningless moments over and over again. Thankfully, with Intelligent Playback, you don't have to.
Intelligent Playback is powered by machine learning to understand and detect parts in your recordings where you're not speaking, then skip over them automatically. All you have to do is switch it on and let Noted work its magic!
Now that lengthy recordings are a breeze to review, you're more likely to do it on a regular basis to keep important topics and concepts fresh in your mind and get ready for the next lecture. Perfect for those who procrastinate or put off revision because they dread reviewing long audio notes.
---
Share and Compare Notes
To ensure that your notes are as precise and thorough as possible, share and compare them with your classmates to check your understanding and fill in any missing information.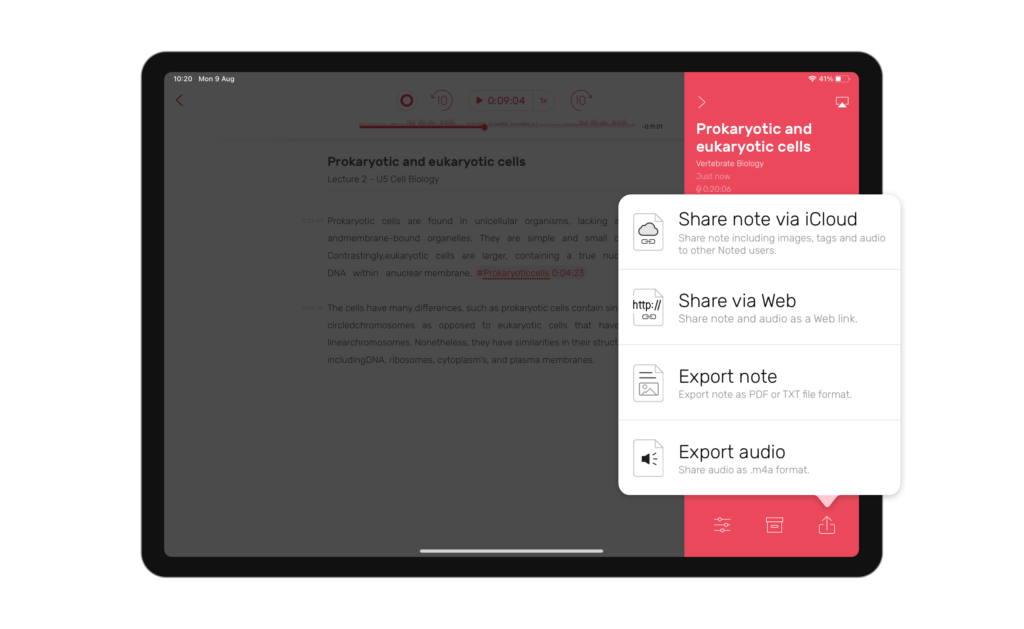 Noted offers various ways to share your notes:
Share via iCloud – Share full notes complete with recordings, timestamps, #TimeTags, and attachments with fellow Noted-using students.
Share as PDF or TXT files – Export and share your notes as PDFs to include images and illustrations, or as TXTs if the notes are only textual.
Share via web – Similar to the first option, except this works even when you're sharing with non-Noted users.
Share recordings as M4A files – You can also just share an audio recording on its own without the bells and whistles.
Take your pick!
---
Wait, that's not all!
Noted can do so much more to take your note-taking to the next level.
For more content like this, sign up for our newsletter; or follow us on Twitter, Instagram, LinkedIn, and Facebook, where we share user tips weekly.