Are you tired of juggling between notebooks, trying to keep up with your professor's ⚡️ lightning-speed lecture, and then struggling to make sense of your scattered notes during exam time? Well, we've got some game-changing news for you! In the digital age, note-taking has evolved, and we're here to introduce you to Noted., a revolutionary tool that will make your student life easier and your learning more efficient.
The Power of Audio and Written Notes in Harmony
Imagine this: You're sitting in a lecture, and your professor is sharing vital insights that you don't want to miss. Instead of frantically scribbling down every word, you press a button, and your smartphone or tablet starts recording the lecture audio. You relax, knowing that every word is being captured.
But that's not all! Simultaneously, you're taking notes on your device using our cutting-edge note-taking app. As you jot down key points, your notes are synchronized with the audio recording. That means each time you type something, it's linked to a specific moment in the lecture.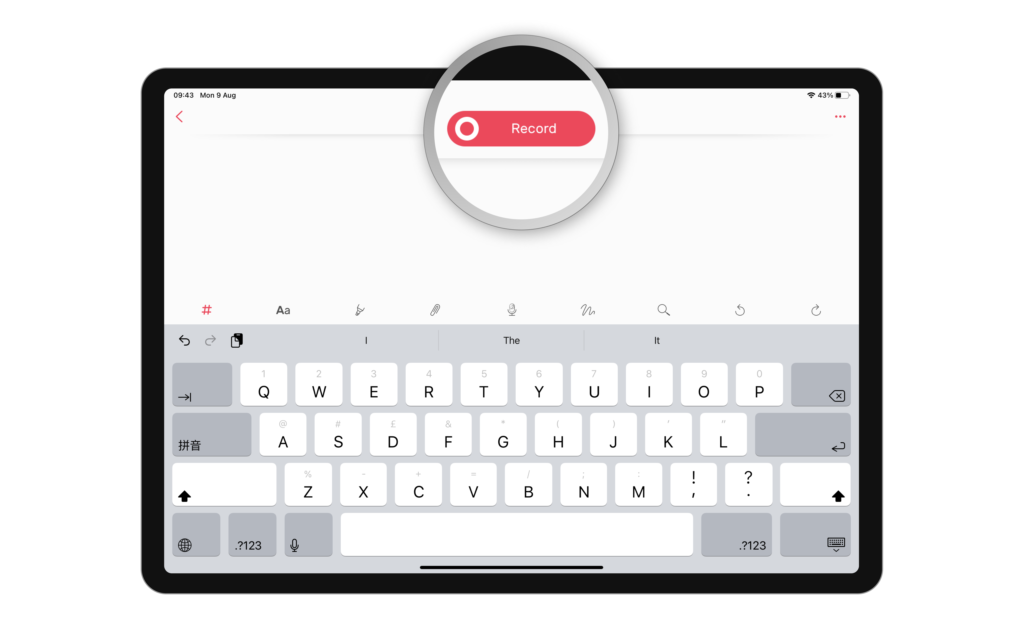 Simply tap the record button, sit back, and let Noted do the note-taking. This is also useful for those who don't do mornings, or if you struggle with taking notes whilst listening. Check out our favourite review below 👇

---
Revolutionizing Note-Taking for Students
Comprehensive Note-Taking: With audio and written notes in sync, you can capture every detail of the lecture. No more worrying about missing a critical point or struggling to decipher your handwriting. You can use #TimeTags to mark exam tips, essay guidelines, and anything else that may help you ace the next assignment.


Efficient Revision: When exam time rolls around, you can simply tap on any word in your notes to instantly hear what the professor was saying when you wrote it. It's like having a personal tutor guiding you through your notes.


Enhanced Studying: Whether you're reviewing for a quiz or preparing for finals, our tool allows you to easily navigate your notes and the corresponding audio. It's an interactive studying experience that's both engaging and effective.

---
"I swear I stopped recording!" 😅 Sound familiar?
As a student, remembering to stop recording after a lecture is likely not your top priority. Consequently, you may frequently find yourself in a situation where you forget to hit the stop button, resulting in hours' worth of recorded audio.
This can pose a couple of issues: it's not enjoyable to review, and it can eat up your storage space. But fear not, because Audio Trimming is here to save the day! In just a few simple steps, you can trim the recording to retain the valuable parts.
Prevention is sometimes the best solution. Activate Location Awareness Recordings to receive reminders to stop recording when you leave a lecture room.
---
Organization: The Cornerstone of Student Success 🎓
It may sound like a cliché, but it holds true. Consolidating recordings from the same subject into a single note streamlines the process of finding specific details. And with our Import Multiple Recordings feature, achieving this level of organization is as easy as pie.
If you're not a fan of bundling numerous lengthy recordings into one note, think about merging recordings from your study groups or revision sessions. This approach prevents you from ending up with an overwhelming number of individual notes by the end of the semester.
---
Unlock Productivity 💪 Save More Time
Whether it's a lecture, a seminar, a study group, or a brainstorming session, moments of silence are inevitable in recordings. And there's nothing more painful than having to listen to the same meaningless moments over and over again. Thankfully, with Intelligent Playback, you don't have to.
Our Intelligent Playback feature is here to streamline your review process. Powered by machine learning, it intelligently detects silent portions in your recordings and skips over them automatically. Just switch it on and let Noted do its thing!
With lengthy recordings now a breeze to review, you're more likely to do it regularly, keeping essential topics and concepts fresh in your mind as you prepare for the next lecture. This feature is ideal for those who tend to procrastinate or delay revisions due to the daunting task of reviewing lengthy audio notes.
---
Share and Compare Notes
For precise and comprehensive notes, enhance your understanding by sharing and comparing with classmates. It's a win-win for both, ensuring you both capture all vital information! ☺️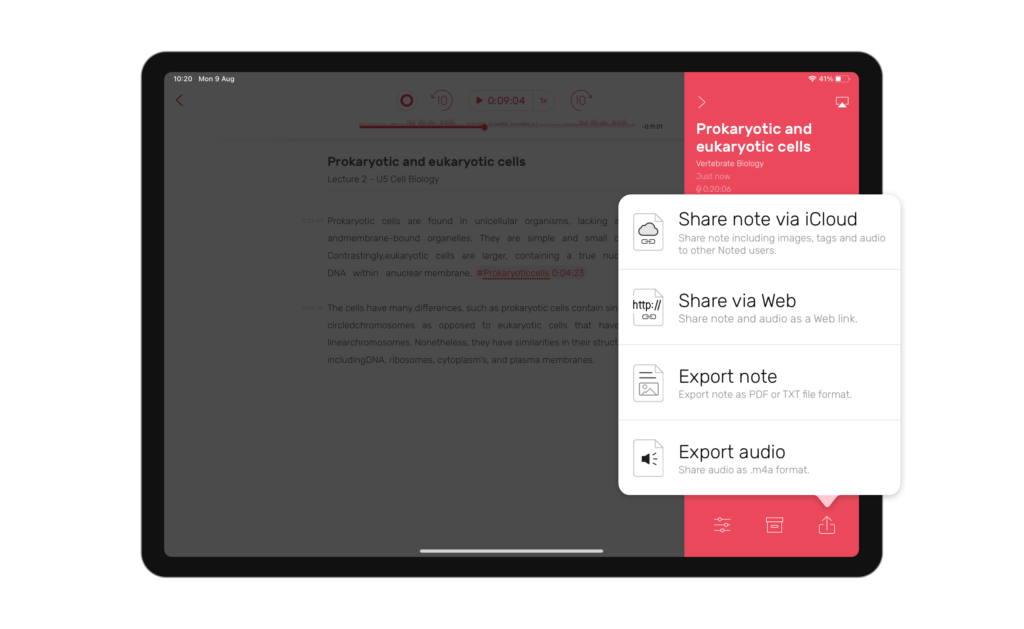 Noted provides multiple options for sharing your notes:
Share via iCloud: Share complete notes with recordings, timestamps, #TimeTags, and attachments with your fellow Noted users.
Share as PDF or TXT files: Export and share your notes as PDFs, perfect for including images and illustrations, or as TXTs if your notes are primarily textual.
Share via the web: Similar to the first option but works even when sharing with non-Noted users.
Share recordings as M4A files: Share audio recordings on their own without additional features.
The choice is yours!
---
Enhance Your Learning Experience Today!
Don't just take our word for it – try it out for yourself and imagine the possibilities. Your learning experience is about to become smoother, more organized, and more effective.
So, how do you get started? Download Noted. and explore the power of synchronized audio and written notes. Let this tool be your companion in your educational journey, and watch as your note-taking becomes more efficient, your revisions more focused, and your studying more productive.
Transform your learning, and become a note-taking pro with this game-changing tool. Your academic success is just a click away!
For more content like this, sign up for our newsletter; or follow us on Twitter, Instagram, LinkedIn, and Facebook, where we share user tips weekly.