Let us start off by giving a big thank you to everyone behind the scene at Noted, our loyal subscribers, and the team at Apple for a wonderful year!
2020 has been jam-packed with exciting app updates and great mobile successes, so join us as we take a trip down memory lane and reflect on the highlights of another fantastic year at Noted.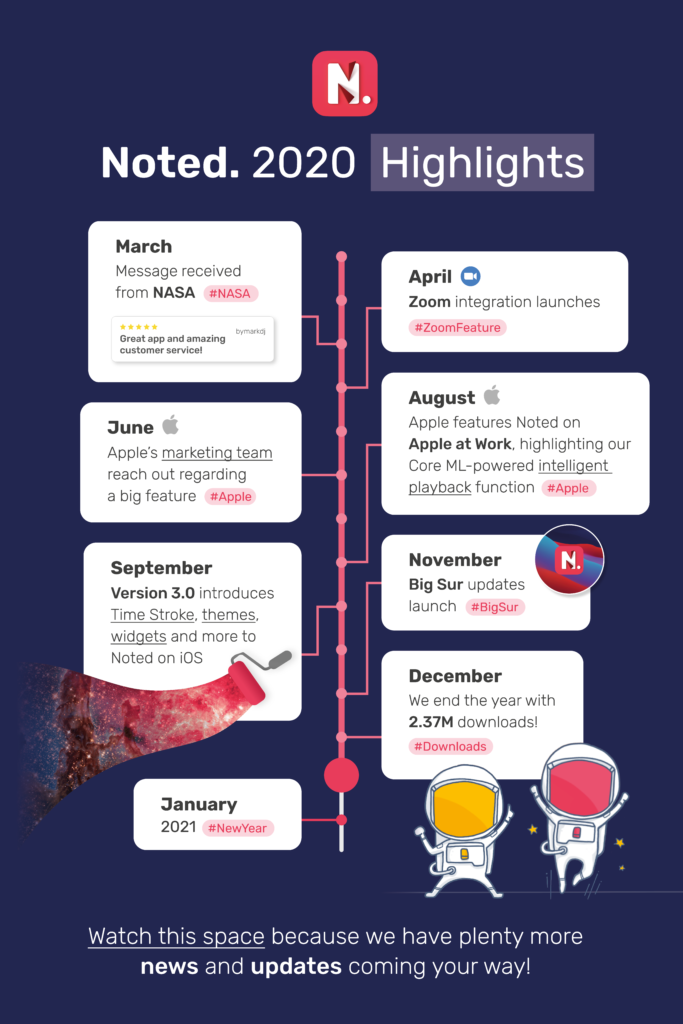 Highlights of 2020
Zoom Integration
Everything we do revolves around note-taking and recording, so when Covid struck, we saw the need for an app that makes note-taking during virtual meetings seamless – and we fulfilled it.
By April, Noted was fully integrated with Zoom, enabling WFHers and students everywhere to record their Zoom calls and take concise meeting notes in real time.
iOS Version 3.0 Update
Alongside the release of iOS 14, we rolled out our biggest iOS update since the inception of Noted. This update introduced themes, shortcuts, Time Stroke, adjustable editor margins, and more to notetakers all around the planet.
Typically we would have weeks to submit an app update; for this release we were given one day's notice to submit our optimised app for review, so the Noted team pulled an all-nighter to ensure all the latest features were available to our subscribers as soon as possible. Let's just say an astronomical amount of caffeine was consumed!
macOS Big Sur Updates
To align with macOS Big Sur's release and all its glorious new features, we released a couple of updates in November which welcomed the arrival of widgets to the world of audio note-taking as well as a whole new universe of intergalactic space themes.
Apple at Work Page Feature
This year we've relished the honour to be named one of the best workplace productivity apps on Apple at Work, next to some of the app world's heavyweights like Microsoft and Cisco, specifically highlighting our Core ML-powered intelligent playback function and how it can help professionals work better and faster.
To say that we were over the moon would be an understatement, so thank you, Apple!
Rave Reviews
First of all, we thank and treasure every review from users all around the world – including those from NASA, Microsoft, and Zeplin! – but this year a couple of them hit us closer to home than others:

What's in store for Noted in 2021?
In the first quarter of 2021, you can expect a wave of new editing tools to enhance your audio note-taking experience, make your audio notes even more serviceable, and generally help you get the most out of your audio notes.
We still have many lightyears to go before we reach our ultimate goals, so strap yourself in and join us for the ride. To stay up-to-date with all the latest #NotedNews, sign up for our newsletter, and follow us on Twitter, Facebook, Instagram, and LinkedIn.